Did you know that most children will have between 6-8 colds a year? This winter, you can be prepared with Dimetapp® – a trusted and effective cough, cold & allergy products for children. Dimetap not only is a cost effective medicine for your family but helps kids feel better, fast. Best of all, Dimetapp® products come in a great grape taste kids love, and have been trusted by moms for nearly 30 years.
Children's Dimetapp® Cold & Cough tackles your child's most bothersome cold symptoms, including cough, nasal congestion and runny nose. Relieve your child's cold symptoms so they can get back to being kids.
Dimetapp® Cold & Cough is available in 4 and 8 oz. sizes. It is also available in a Day & Night Value Pack, which includes a special nighttime formula, Dimetapp® Nighttime Cold & Congestion, made to relieve your child's cold symptoms so they can rest better.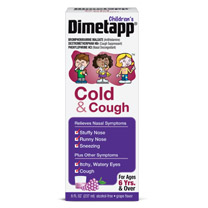 Children's Dimetapp® Cold & Cough provides relief from these symptoms:
– Cough
– Stuffy Nose
– Runny Nose
– Sneezing
– Itchy, Watery Eyes
This product is made for children 6 years and over. For more product information, click here.
Click here to receive a $1.00 off coupon.
I received a free product from Smiley360 for my review. The thoughts expressed in this blog post are my own.