Never again will you use other tape after trying Gorilla® Packaging Tape – the ultimate solution for moving, shipping and storage. Keeping packages secure now takes JUST ONE STRIP™ with this thicker, tougher and wider tape! The smooth, quiet release tape is water and temperature resistant, allowing it to hold-up through a variety of conditions. Applying Gorilla® Packaging tape is also quick with the durable, easy to refill dispenser that cuts tape with ease, making this tape the perfect solution for all of your packing needs.
To all of my friends in the process of moving, please try Gorilla!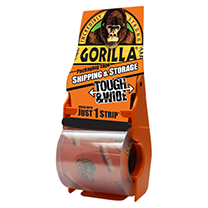 *Please note: I am a member of Smiley360. They provided me with a sample to review the product. The opinions expressed in this blog are my own.